Sheet Metal Industry Icon, Ductmate's First Foreman Passes Away at 85
DMI Companies Inc.'s owners, leadership and employees are saddened to report that William "Bill" Bradford Jr., 85, passed away peacefully with his family by his side on Sunday, Jan. 1, 2023.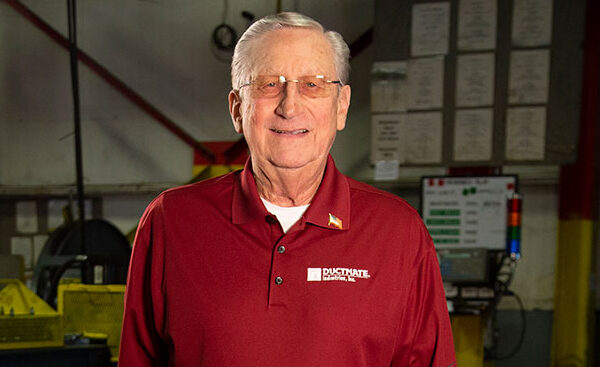 Bill was a colleague and mentor to many in the sheet metal industry, as well as the first SNIPS Industry Icon. With over 55 years of experience, he was Ductmate Industries' first shop foreman hired after the company's inception in 1978. Bill assisted Peter J. Arnoldt, one of the founders of Ductmate, in building the original Ductmate 35 production line and spent countless hours perfecting the product that revolutionized the HVAC industry.
Once production began, Bill managed and directed Ductmate's first group of employees to staff the factory. He trained hundreds of sheet metal workers and customers to properly install the Ductmate 25/35 Systems and quickly advanced within the organization. Bill held the following positions throughout his time at Ductmate: Foreman, Factory Superintendent, Field Service Manager and National Service Manager.
From his early days of running the Ductmate facility to traveling and working with contractors, end users and distributors, Bill's impact on the sheet metal and HVAC industry cannot be overstated.
Bill was born on Aug. 13, 1937, in Pittsburgh to the late William and Frances (Matuszewski) Bradford Sr. and graduated from Oliver High School in 1955. Following graduation, he served for four years in the U.S. Airforce. Upon honorable discharge, he wished to continue his service by joining the Air Force Reserve, followed by the Pennsylvania Air National Guard, serving twenty more years.
Bill joined Ductmate in 1978 for his distinguished 32-year career. Although he officially retired in 2009, Bill remained a staple at training classes and industry events through 2019, sharing his knowledge with future generations of employees, sheet metal workers and customers for 10 years post-retirement.
Bill is survived by his high school sweetheart and wife of over 61 years, Joanne (Kaiser) Bradford, Joanne's sister Jeanne J. Zeigler; his children Renee J. (Shawn) Pennington, William C. (Lori) Bradford; his grandchildren Ryan B. Pennington, Evan L. (Brenna) Pennington, Aila M. (Joshua) Freed, Hannah J. Bradford and William "Tanner" Bradford; his great-grandchildren Logan R. Pennington and baby-to-be Freed; his siblings Richard (Jane) Bradford, Terry (Christine) Bradford and Donna L. (Robert) Cunningham, as well as many nieces and nephews.
Bill considered the employees of Ductmate his second family. Throughout his career, he touched the hearts of many DMI employees and industry professionals. As a tribute, The William Bradford Training Center at DMI's corporate headquarters in Charleroi was dedicated to him over a decade ago. Bill Bradford Jr. created a legacy within the industry and with DMI that ensures that he will be missed but never forgotten.