The world leader in HVAC products, services, and design.
Founded in 1978 by Peter J. Arnoldt as Ductmate Industries, DMI Companies, Inc. is now comprised of four strategic business units: Ductmate Industries, Aire Technologies, GreenSeam Industries, and Linx Industries. In 2005, the company restructured and created DMI Companies as the parent company of Ductmate and Aire Technologies. In 2015, GreenSeam pipe and fittings products branched off as a new division of DMI Companies called GreenSeam Industries (GSI), and Lindab USA was bought and renamed Linx Industries. Our companies provide superior HVAC products to contractors and builders worldwide.
DMI will continue to create a better world for the current and future generations by providing a sustainable environment through our products, operations, and personal conduct. DMI strives to remain the preferred manufacturer and supplier of innovative, sustainable solutions while continuing to serve the building industry.
DMI products are known for their high quality, and we take pride in our manufacturing processes. All four divisions produce union-made products.
DMI was named Manufacturer of the Year in Pittsburgh (2008, 2009), received a Product Innovation Grant by the GBA (2009), was awarded two Advanced Energy Project Awards by the DOE (2010), won the Green Workplace Challenge (2014), won the GBA Enterprise Award (2019), and achieved Certified Gold Zero Waste to Landfill (2018-2021).
Through 40 years of innovation, Ductmate has proven to be the industry leader in engineered duct systems and component solutions. With manufacturing and distribution facilities dotting the planet, Ductmate is one of the largest HVAC system components manufacturers in the world and the largest in the US.
By delivering consistently high product quality, uninterrupted supply, and unparalleled service and support, Ductmate improves your on-time delivery and finished project quality, while reducing time on the job and installed system costs.
Aire Technologies is proud to present our premier line of air management and life safety products. Our Fire Dampers, Ceiling Radiation Dampers, Leakage Rated Dampers, and Louvers are ready for integration into your HVAC system design, fabrication, or installation. You can expect from Aire Technologies, the same unrivaled engineering, manufacturing quality, and delivery expertise, along with the commitment to excellence and value for which the DMI name has been known for more than 40 years.
We have the finest production and shipping team in the industry, allowing us to surpass the lead times of our competitors and get the products that you need on the job site faster than anyone else.
GreenSeam Industries is the best source for factory-sealed pipe and fittings in North America. Our products are sold through a growing network of distributors in the US, making it easy to find, order, and take delivery of all of our superior pipe and fittings products.
We have designed and engineered a completely factory-sealed pipe and fittings duct system for the low-pressure side of HVAC systems. Our HETOs, Conicals, Collars, and Pipe will provide you with a SMACNA Class 3 seal without needing to use additional sealants or tapes on the jobsite.
Linx Industries is an American-based manufacturing company specializing in the development, manufacturing, and distribution of sheet metal products and system solutions for the HVAC industry. As a division of DMI Companies, Linx has become North America's preferred air solution provider for products ranging from single wall ductwork to complex and custom heavy gauge industrial solutions.
Linx stands behind its products and are a quality that you can trust, regardless of the size, material thickness, special material, coating, insulation, or insulation thickness you need. Many of our products are available with the Linx Safe gasketed, self-sealing duct system connections. Linx's strict adherence to our standard tolerances allows for the most consistent and tightest self-sealing joints in the industry.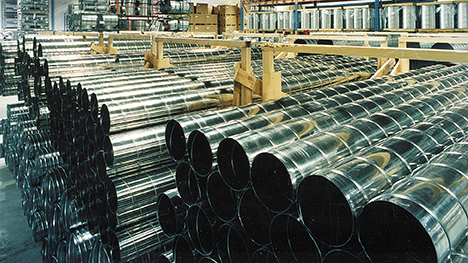 Providing Solutions for a Better World
Through our products, operations, and personal conduct.