We all have traditions, and DMI and its employees during the holiday season are no exception. Learn more about DMI holiday traditions during this special #12DaysofDMI blog post.
Christmas Tree & Ornaments
A festive and fun holiday tradition that DMI began over 15 years ago after relocating to our corporate headquarters in Charleroi, Pennsylvania, is that we put a Christmas tree in our lobby every year. This 12-foot Christmas tree is proudly decorated with a wide variety of lights, beads, and ornaments.
Employees at our corporate office are asked to bring in an ornament to hang on the tree. These ornaments are reused and added yearly to ensure that DMI employees, both new and old, will be a piece of our holiday traditions for as long as they continue.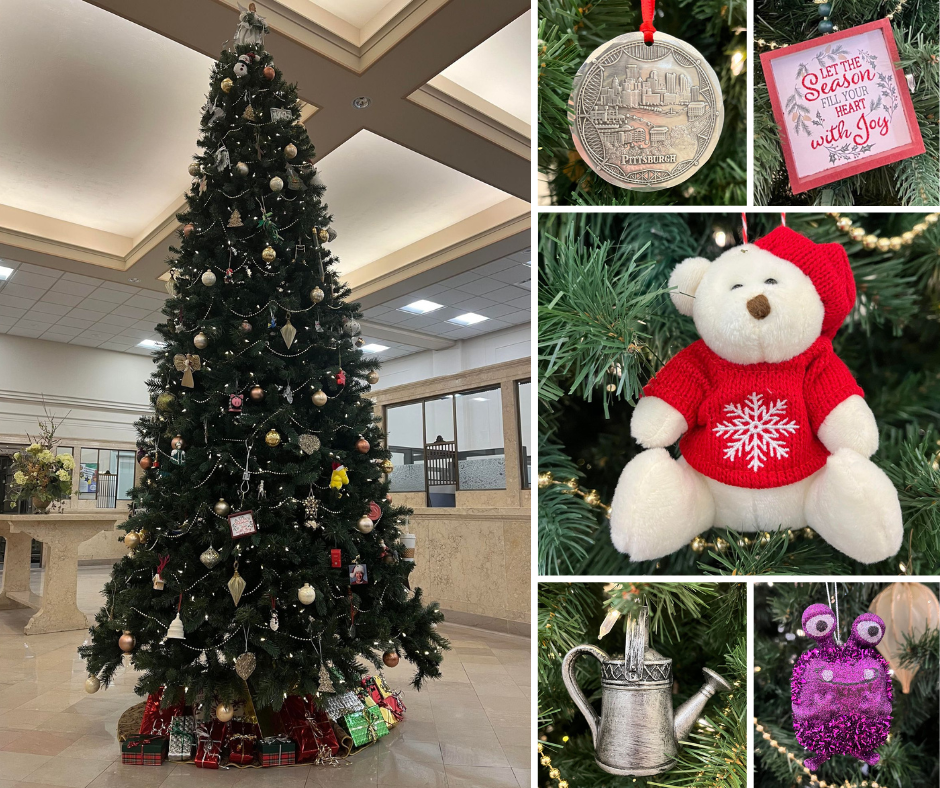 DMI Children's Christmas Party
The annual DMI Children's Christmas Party is held for the children and grandchildren of Pennsylvania DMI employees. This tradition was started by DMI's owners and has been held almost every year since the beginning of DMI. DMI's Children's Christmas Party was held this year on December 10 at the Charleroi Middle School, as our corporate office no longer provides the space needed to host this event. Over 200 children, family members, and volunteers were in attendance.
During this event, children were able to spend time with Santa, take a photo with Santa, receive an age-appropriate gift, make a craft (DIY holiday photo frame), eat lunch (pizza, snacks, drinks), play games with other children and families, get their face painted, and have balloon animals/objects made by a professional balloon artist. All photos with Santa were developed and distributed to the families of each child.
We hope to continue and grow this event for many years as it brings the children great joy and provides a sense of comradery between DMI employees and families. To respect the privacy of the children and families in attendance, we cannot post pictures that show their faces.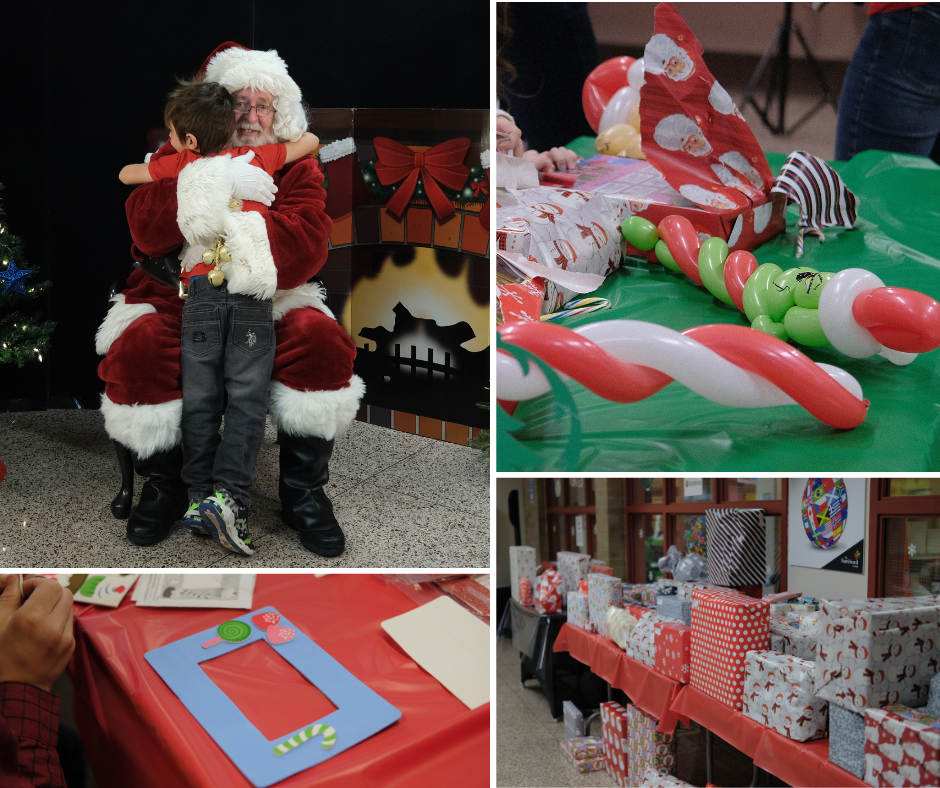 Christmas/Holiday Luncheons
A DMI tradition at each facility that has been held since our company was founded (except for COVID years) is our annual Christmas/Holiday luncheons. DMI luncheons provide an opportunity for our employees to gather as a group, enjoy a catered meal, and spread holiday cheer.
During our holiday luncheons, DMI senior management recognizes employees who have been with the company for more than five years. DMI service awards are awarded to employees who have dedicated 5, 10, 20, 30, and 40 years of service to us.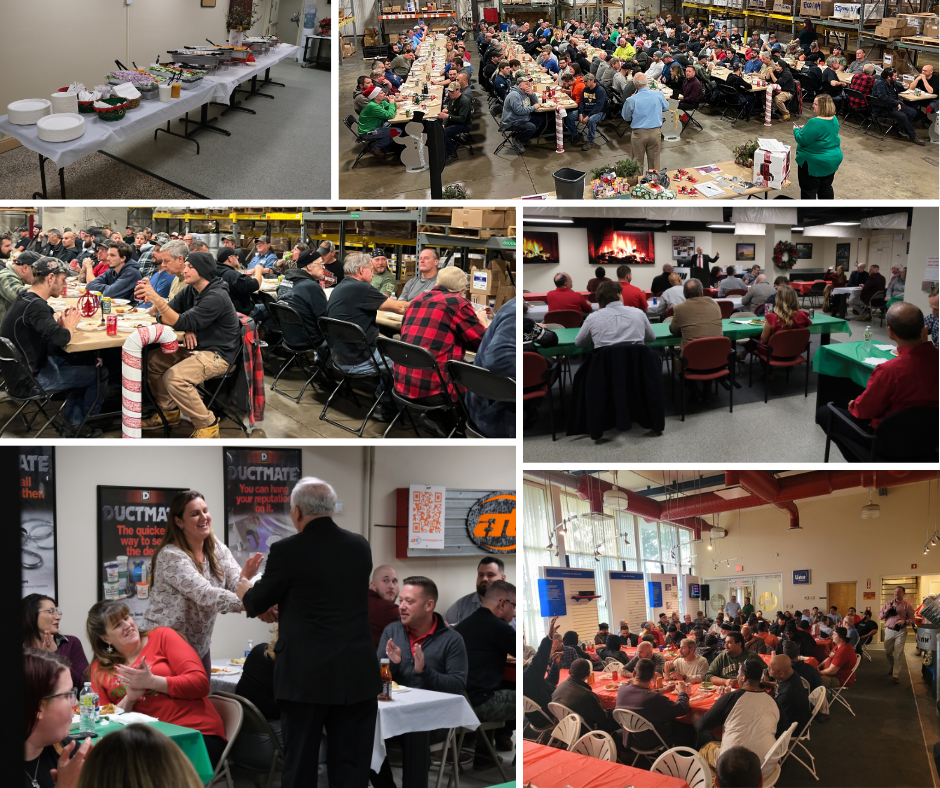 Make-a-Wish Charity Donation
In what has become one of DMI's most cherished holiday traditions, 2022 marks the 19th year DMI has donated to the Make-a-Wish foundation and has donated $74,100 since 2004. This year, DMI Companies, Inc. donated $4,400 to the Make-a-Wish foundation to grant a wish to a child in need.
This year, DMI's funds granted a wish for a local eight-year-old boy named Elijah in Charleroi, Pennsylvania, who was diagnosed with Duchenne's Muscular Dystrophy. Elijah wished to have a virtual shopping spree to get a 65" smart TV, PlayStation 5 console, controller charging station, controllers, a headset, and games.
To raise funds to donate to Make-a-Wish and other various local children's charities, the DMI's Children's Charity Committee regularly hosts fundraising events at our Pennsylvania facilities, such as 50/50 raffles, basket/prize raffles, Casual Fridays, and other various events throughout the year.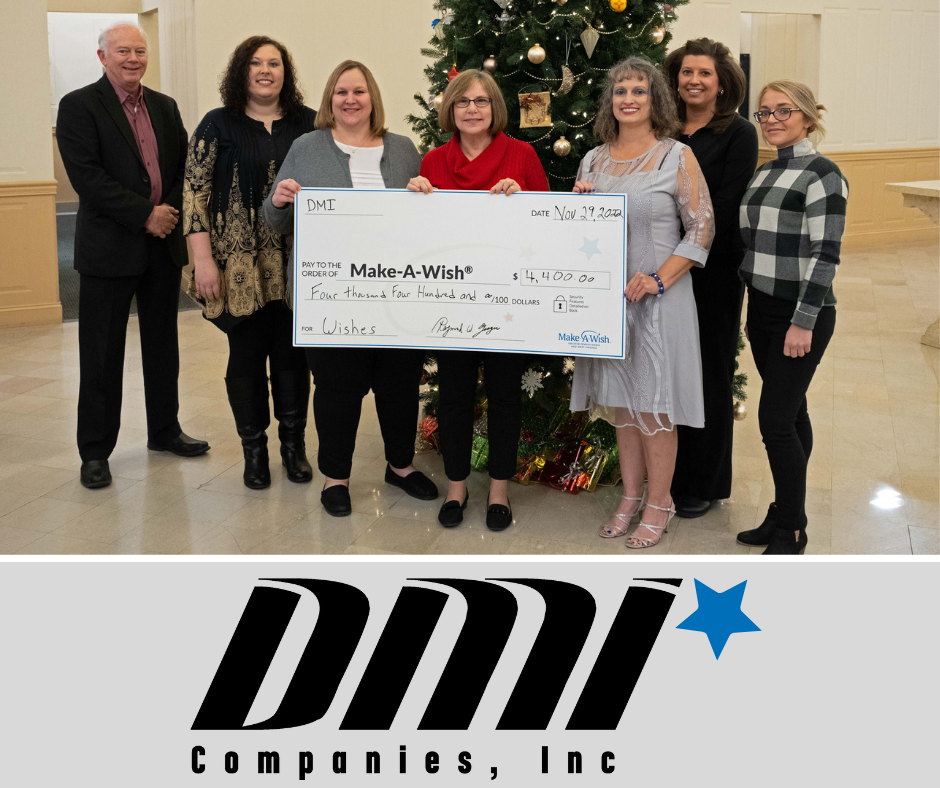 Upcycled Holiday Decorations
A more recent DMI holiday tradition fueled by the creativity of our employees is the creation of upcycled holiday decorations. This tradition began approximately five years ago during an attempt to find frugal but festive decorations for our Pennsylvania facilities. Common materials found at our production facilities, such as scrap sheet metal, spray paint, ribbon, and even some of our products used for quality testing, were repurposed to create unique decorations to be used for many years to come.
This year, a sheet metal snowman decoration was raffled off at our Children's Christmas party to raise additional funds for future DMI Children's Charity donations. This unique snowman raised $100 for Children's charities and was given a new home.