Congratulations to both Belle Vernon Area High School's and Charleroi Area High School's BotsIQ teams for their outstanding performance at the SWPA BotsIQ Finals at California University of Pennsylvania on April 29-30, 2022.
BotsIQ is a workforce development program that provides students with an opportunity to explore manufacturing careers and develop valuable technical and soft skills while designing and building combat robots. DMI Companies have proudly sponsored these teams for the last seven years and have had several team members come to work at the company after graduating.
Charleroi's team was crowned Grand Champion, an award that is given to the school that achieves the highest overall score in multiple categories including combat performance, engineering design, documentation, interviewing and more. Additionally, Charleroi finished second in combat and won Best Engineered Bot. The Belle Vernon team also went far, finishing ninth in combat, and tenth in Grand Champion rankings out of 58 teams.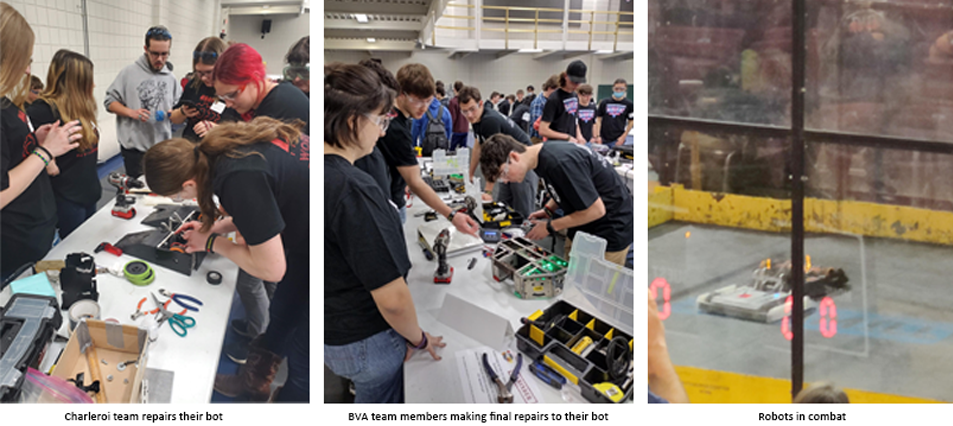 Thank you to DMI employees Brandon Bachner and Steve Gerba for serving as Industry Advisors to the Charleroi team and DMI employees Jason Marr and Steve Simqu for serving as Industry Advisors to the Belle Vernon team. Industry Advisors provide guidance and feedback to the students throughout the design and build phases to help them hone their skills. Additionally, thank you to Charleroi teacher Nick Arico for building such an amazing program and to Belle Vernon teacher Mike Pappas whose Project Lead the Way curriculum never fails to develop impressive skills in their students that consistently deliver impressive results in competition.
Great job to all involved!

For more info on BotsIQ, CLICK HERE