Registration for the 2023 Ductmate Distributor Training Classes is now open!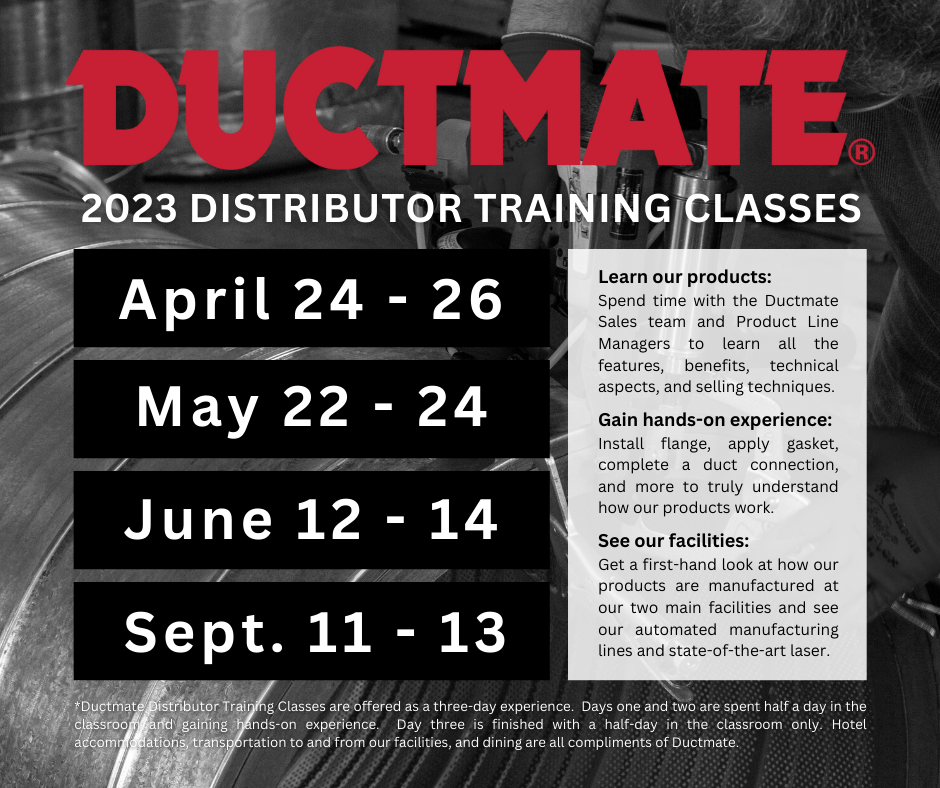 Ductmate Distributor Training Classes are offered as a three-day experience. Days one and two are spent half a day in the classroom and gaining hands-on experience. Day three is finished with a half-day in the classroom only. Hotel accommodations, transportation to and from our facilities, and dining are all compliments of Ductmate.
Learn our products:
Spend time with our Ductmate Sales and Product Line Managers as they instruct you on our complete line of products. Learn all the features, benefits, technical aspects, and selling techniques in a relaxed classroom atmosphere. This class is perfect for employees new to the HVAC industry or seasoned vets looking for a refresher on our products.
Gain hands-on experience:
Learn directly from industry professionals on how our products work in the field. Getting a chance to work with them will help you to truly understand how they work. Install flange, apply gasket, complete a duct connection, and more.
See our facilities:
Get a first-hand look at how our products are manufactured. Tour our two main facilities and see the machines that helped to launch Ductmate over 40 years ago. Then, see how Ductmate is manufacturing the future with automated manufacturing lines including our state-of-the-art laser.
2023 Dates:
April 24 – 26
May 22 – 24
June 12 – 14
September 11 – 13
Spots are limited and are reserved on a first-come, first-served basis.
To register, please contact Liz Polonoli (Ductmate Sales Assistant) at [email protected] or (724) 276-3019.
We look forward to seeing you there!